History
On top of this very hill the Ancient ruler of the island, built a monument dedicated to his Queen to show his power and prove his love and devotion to her. (Mycenaean period 1600-1200 bc. To honor this Queen (whom the name remains unknown) we named the Hotel "Tharroe of Mykonos". The name derives from the Greek verb Θαρρώ ( prnd: Tharro) meaning "I presume/I believe", accompanied by the feminine article 'η' ( prnd: e) .Tharroe then is "the one that is believed to have lived here', the presumed Queen. The monument stays under the protection of both the Greek Ministry of Culture and the Hotel and at the moment is covered with a simple metal cover (not yet officially open to the public).
Many years later the English Admiralty marked the big rock on the top of this hill on its naval maps, as a reference point of entry to the port of Mykonos. It was this very rock that the notorious pirate Hairedin Barbarossa used as his observatory. To keep alive the history of this hill, we named our Restaurant, ''Barbarossa''.
Art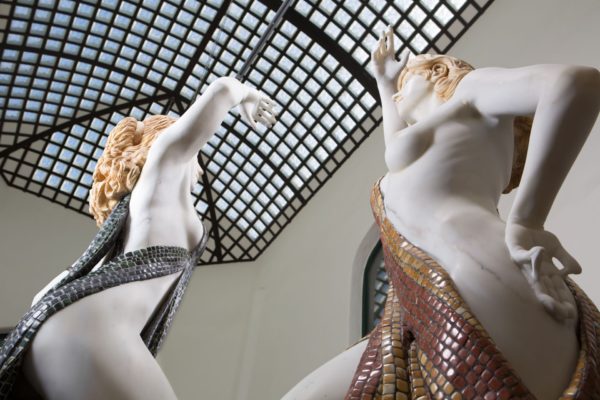 Although Mykonos is a masterpiece itself, there are some places where art can be presented more thoroughly. Tharroe of Mykonos stands for this effort through its private art collection and varied initiatives for a wide range of audiences by organizing Art exhibitions, concerts and events.
Spaces within the Hotel reflect the ongoing dialogue between past and present.
The reception desk dated in 1890 (bought in an auction) is from the professor's auditorium in Manchester University. It still carries the ink pots used at the time for writing with a pen.
The huge breakfast buffet table was also part of the library of the same University.
The entrance door of ''Barbarossa Restaurant'' belongs to a Neo-classic old house in Syros island.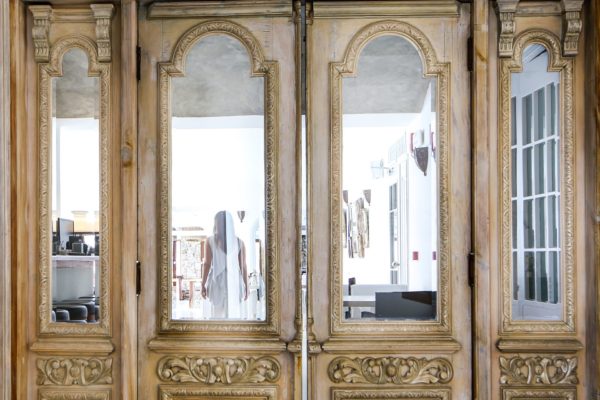 The handmade ceiling of the Atrium is designed and constructed by artisan master Evaggelos Poulas.
The private Art collection of the Hotel, housed in both public areas and rooms/suites, comprises art from painting to sculpture and offers a fresh perspective to our guests.
You can also admire the Sculpture made by Andrew Wielafski, "Corisca & Amaryllis" at the hotel's atrium, "The whale" at the entrance, "The mask" at the Main Bar, "Minotaur Woman" and "Man with an apple" at our Pool veranda and "Katrina" (sculpture in wood) at the Panorama suite. (You can find more details about Andrew's impressive artwork at https://www.absolutearts.com/elaniii/)
At Tharroe of Mykonos hotel, you can also admire the spatula technique of the paintings signed by Katerina Karagianni- Latropoulou, and paintings by the Mykonian painter Marina Petri inspired by Greek tradition, in common areas and guests rooms. A small collection of Silkscreen printing from masterpieces is also available in common areas and guest rooms.